Laughing is important: It lowers anxiety and blood pressure and overall contributes to a better day. 
In 2020 more than ever, the event (whether on-site, virtual or hybrid) must become a real experience to be fully successful. And what better experience than having fun and enjoying your time at an event? 
Laughter as an experience
There are many ways to surprise your audience if the tone of your event allows it, to make it more fun for everyone. There's nothing like creating an emotional link between your audience and your event to make it more memorable. Here are a few examples of initiatives that we have been able to identify: 
Via your speakers: they may be relevant, but do they check all the boxes? The humor of the speakers helps you to make your event more dynamic and prevents you from losing your audience's attention. Don't hesitate to reach out to comedians (visit the Paname Comedy Club to see the talents of the moment in a one-man show) to brighten up your events! (And it keeps you young and up to date with new comedy talent).
Via playful games that add a little more involvement to events: For example, in the case of a pro show, you can organize your stands and workshops, where each visit gives visitors points. At the end of the event, participants can check their scores and possibly exchange their points for gifts! Everybody wins: your visitors have visited more stands than usual, leave happy with a gift and a positive feeling, with a certain nostalgia for the fair atmosphere.
Via the organization of a disguised event (if possible with a particular theme): The tone becomes offbeat, people are happy to lend themselves to a day out of the ordinary... It's easier to approach serious topics with each other when the atmosphere is light. Similarly, it makes the first step toward meeting new people much easier (and of course, you don't need to disguise yourself entirely, an accessory can be enough).
Can we be funny in videoconferencing?
The need to turn an event into an experience applies at least as much, if not more, to your virtual and hybrid events. Given the number of virtual events that have been offered since March 2020, you need some tips to keep your participants engaged. Since fatigue and boredom are logically more frequent behind a screen, the lack of physical human interaction will be compensated for by: 
Virtual role-playing games: Virtual interaction can for example start with a round of introductions to relax the atmosphere and get to know the participants better so that the event becomes a less anonymous experience. For this, you can use Kahoot Quizzes, virtual Blind tests, and other multiplayer games that energize and entertain employees who can sometimes feel the loneliness of isolation and WFH. 
Virtual aperitifs at the end of events: At Digitevent at the end of videoconference meetings (confinement obliges), we enjoyed spending 10-15 minutes with a drink in hand to talk about something other than work to decompress and broaden the exchange to more personal subjects. 
Challenges: Have you ever tried to play a virtual escape game? Nothing could be more fun to strengthen the cohesion of your teams! Many games like "Keep talking and nobody explodes" improve communication while giving your teams a challenge (here, a given time to defuse a virtual bomb).
Or, even bolder, by inviting an actor into the web conference! The idea is simple: What if actors came to make your events more fun? A New York startup has done it. Many employees find their work meetings boring, so the company wanted to create a whole new format: They call it LaaS (Laugh as a Service), which parodies the acronym SaaS. This idea can be applied to all sizes of companies and (almost) all types of events.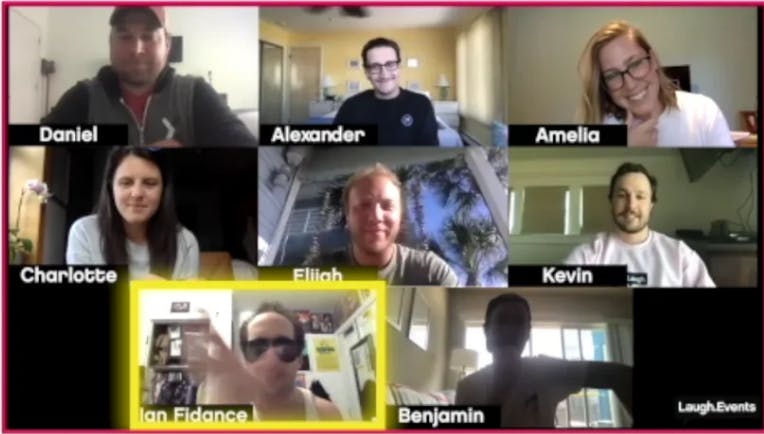 Re-enchanting everyday life and associating work with positive emotions
The first half of 2020 has weakened the social bond within a majority of companies and has had an impact on the motivation of teams.
The vocation of the event is precisely to combat this state! Human Resources, therefore, have a new challenge: to re-enchant the work experience and rebuild the bond between employees despite teleworking and distancing.
The importance of keeping your participants engaged is not up for debate: engagement is a direct vector of information assimilation. Even internally, the commitment of your employees will create a collective memory of your event and will cement your corporate culture, even virtually.
At Digitevent, we love events because we believe that human interactions are a source of fulfillment and that events are the ideal playground for innovation and new experiences. Our mission remains the same despite the context: to help you organize memorable event experiences.
Send us your most daring initiatives, we'll be delighted to re-disseminate them and highlight them to the event organizing community! :-)
(Be careful, if you expect too much laughter in the room, don't forget to provide masks!)