👉 Is the event of tomorrow more inclusive? Boosted by new societal expectations, economic necessities, and everyone's demands, inclusivity is a real performance lever for event organizers. Inclusivity, also known as inclusivity, is integrated into the social part of the company's CSR, but it is also and above all, a strategic decision. The actions carried out are aimed at preventing situations of discrimination related to disability, age, social or cultural origin, gender, sexual orientation, physical appearance or social situation.


📈 In January 2020, a study by consulting firm Deloitte reveals the following indicators:
An inclusive policy would generate up to 30% more turnover per employee 
80% of HR managers and executives consider diversity and inclusivity to be competitive advantages
57% of 18-34 year olds believe their company should increase diversity and inclusivity in the workplace
40% of executives and HR managers believe that senior management should be the primary sponsor of diversity and inclusivity



🌟 For 2022, think inclusive event planning!
Dear EventProfs, your events are the mirror of your company! They represent the image and values you want to communicate to your attendees. Your inclusivity strategy must be given special attention, whether your events are virtual or physical.


1. Why Inclusivity is important for your event?
Do you want your events to reach a higher level of acuity, innovation and engagement? Inclusivity may be the answer to conveying a positive image, enhancing your reputation and being consistent with the values your audience is looking for.
With an effective inclusivity policy, your events can quickly become more critical, more credible, more impactful and therefore more engaging.
When we think about increasing event inclusivity, we automatically think about panel composition, and focus almost exclusively on achieving gender balance. That's a great first step. But there are many other aspects of an event that can be addressed. Increasing diversity and inclusivity at your events can seem like a gigantic change, but it just takes a little thought ahead of time. 

🤔 But what is the difference between diversity and inclusivity? Diversity is the representation of a variety of profiles. To summarize, diversity is a fact, while inclusivity is a choice. Diversity is about surrounding yourself with different people. Inclusivity is about working with different people, without letting them know they are different. It is the decision to integrate a person into a group, where everyone feels they belong. This involves, among other things, a sense of belonging, and good cohesion between participants.

🌟 What event professional doesn't want to improve the experience and satisfaction of their participants? Imagine an event where everyone experiences, enjoys the same activities without distinction. An event during which everyone feels heard, understood, and where it is easy to identify, thanks to a panel of speakers who represent them. The approach is winning, bears fruit and requires little financial investment. In addition to satisfaction, it promotes interactivity, innovation, creativity, but also the loyalty of your participants.
👉 And why not offer a disability awareness experience at your next event? Make your employees and participants aware of the issues of inclusivity!


2. The "inclusive event" checklist
First and foremost, set SMART (Specific, Measurable, Attainable, Realistic, and Timely) goals and proactively find ways to achieve them. Here's a list of good questions to ask yourself to find out where your event's inclusivity needs to be improved. ✅
Communication
Are your website and communication materials accessible to people with disabilities? Think about adapting and varying formats (images, videos, texts etc.)!
Do your images and visuals reflect the experiences of a diverse population (without reproducing existing stereotypes)?
Are the documents (invitation, paper or video materials etc.) translated into English?
Accessibility of venue & space
Is the location fully accessible for people with special mobility needs (e.g., parking spaces for people with limited mobility, elevator, ramp, automatic doors, automatic door openers, width of doors)?
Are the lighting and acoustics correct? 
Is the signage understandable for everyone?
Are there reserved seats in the front row for people who are deaf or hard of hearing?
Is there a separate room for special needs (breastfeeding, resting etc.)?
Are there toilet cubicles adapted for PRM?
Planning
Do you have a code of conduct in place that specifies behaviors that will not be tolerated during the event? Make sure it is available and visible on the event's webpage and on distributed materials (flyer, brochure, etc.)!
Do you offer different ticket price classes? Do you take into account the different purchasing power of your participants (why not offer free or discounted tickets for people with reduced mobility to compensate for extra travel costs)? 
Can participants request special accommodations when they register?
Do name tags have high contrast and large print?
Do you allow service animals?
Do you have an interpreter?
Can pregnant women or people with disabilities be given priority in line?
Does the date of the event coincide with a religious holiday for the target audience?
If meals or beverages are provided, are diets, allergies and dietary restrictions taken into account? Do I offer food alternatives? Do I indicate the ingredients?
Is your staff properly trained on inclusivity issues? Have you warned them in advance about zero tolerance for sexist, racist, or homophobic comments?
Animation
Is there diversity in the selection of speakers, the composition of panels and round tables? 
Are the interventions/ speaking times fair?
Is the facilitator sufficiently trained on non-discrimination and respect issues to be able to intervene if necessary?
Evaluation 
Do the evaluation forms contain a section on the inclusivity of the event?
Do the evaluation forms allow for feedback (e.g., via open-ended questions)?


👉 Thanks to Digitevent, you can clearly and accurately know and manage the list of your participants and the audience reached, but also establish your own statistics on the data you want to analyze! 
3. The example of events organized by the IUCN

The International Union for Conservation of Nature in France (IUCN), is an association that brings together experts and a network of public bodies around biodiversity issues, for companies and local authorities. In line with its values (equality, inclusivity, integrity, ethical behavior and respect for the diversity of people), the organization positions itself as a real actor of change in favor of inclusivity, more specifically on the issue of gender equality. 🌟
 For several years, it has implemented a strategy of integrating gender issues at all its events: 
"All IUCN events, including the IUCN World Conservation Congress, aim to achieve gender equality in their governance as well as in active and passive participation. IUCN's overarching goal was to make the Congress a professional, respectful, inclusive and harassment-free experience for all." 
 👉 In addition to this strategy, IUCN also has an anti-harassment policy in place. In doing so, it follows the advice of the "Guide to a Gender Sensitive Assembly" produced by International Gender Champions. As the host country of the Congress, the French government has also shared this commitment and has integrated gender equity processes and monitoring into the preparations and implementation of the Congress.

When the event perfectly represents the organization and its values: it is also a guarantee of consistency and credibility! 👍
In order to keep its objectives and establish an achievable and concrete action plan, the organization has published a document that presents its gender mainstreaming strategy under 4 parts: purpose, applicability, strategic objectives, and tools (pre-event, during the event, post-event).
IUCN shares a strong message with us and positions itself as a great example of inclusivity in events, accessible to all EventProfs! ✅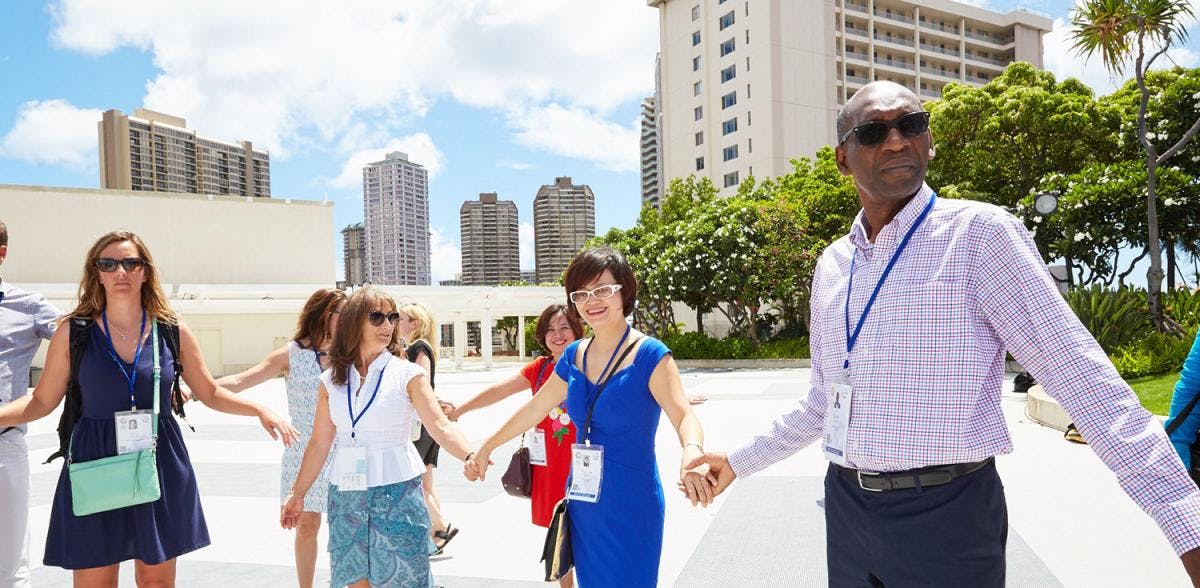 4. Enhance and federate your events with AFNOR labels! ❇️
The "Gender Equality Event" label certifies that an event was prepared and held with respect for gender equality. Development of awareness-raising actions, implementation of a listening device, fight against gender stereotypes, creation of bridges with stakeholders... various solutions to fight against gender inequalities are brought thanks to this label. Co-developed with the French government to label the G7 Summit, the label of AFNOR, the French leader in certification, is aimed at all event organizers: festivals, concerts, sports events or any other type of event.


What are the commitments to be respected to obtain the label?
Carry out an inventory and a risk analysis in terms of equality between women and men
Formalize the management's commitment to fight against inequalities, which implies a clear communication to the teams on this commitment and the designation of a person in charge of the matter 
Implementing concrete actions to make gender equality possible
Provide the necessary means to obtain the expected results
Create a listening system and communicate it to teams
Raise awareness and communicate internally to combat stereotypes
Provide evidence that equality is taken into account
Communicate and raise awareness externally on gender equality issues, both in the context of territorial anchoring and in its relations with suppliers and local players
Implementing an internal evaluation and continuous improvement system
Apply exemplary measures
The "Gender Equality Event" label enhances the quality and professionalism of your event, strengthens the trust of your partners, institutions and funders, structures your event to make it more responsible, but also proves your legitimacy to act for the gender equality cause! 👨 👩
It's also a great way to attract new talent to your company, and to differentiate yourself from other event organizers with your dynamic involvement in gender equality. A great way to attract new talent to your company, and to differentiate yourself from other event organizers with your aggressive commitment to gender equality. 
💪 Two other labels to discover for more exemplary and attractive events!
1. The Fédération des Entreprises d'Insertion co-created with AFNOR in February 2020, the RSEi label (Societal Responsibility of Inclusive Companies) which attests to your company's level of maturity in terms of CSR-related inclusivity.
2. The alliance of AFNOR's Diversity and Professional Equality labels (these are two separate labels but can be combined into a common core) offers to enhance all your commitments and practical needs in terms of preventing inequalities.
Conclusion
Beyond following the trends of inclusivity, it is equally important to foster the human side of events. Some international initiatives are inspiring: two committed British women, Gabrielle Austen Browne and Ashanti Bentil Dhue, have created their own consulting and strategic workshop agency: Diversity Ally. The agency works with the events industry to make it more diverse, equitable and inclusive.
There are many opportunities to reap the benefits of inclusivity. Thanks to many actors who are trying to move the lines and move with the times, it is now possible for all event organizers to improve their inclusive approach and offer your attendees solidarity and committed events that are like you! 🌟